United Square, Fifth Floor
Attorneys

Parkersburg, WV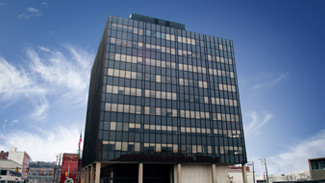 The Bowles Rice office in Parkersburg, West Virginia is located on the West Virginia - Ohio border. The Bowles Rice office in Parkersburg is conveniently located within walking distance of the Wood County Courthouse, and just minutes away from Marietta, Ohio -- the county seat of Washington County, Ohio.
The office is located on the fifth floor of United Center in downtown Parkersburg, convenient to the United States Courthouse, the Wood County Courthouse, the Parkersburg Municipal Building and all downtown banks.
Directions
From I-77 North or South:
Take Exit 176 (Route 50/Seventh Street); turn at traffic light onto Route 50 West.
Stay on 50 West until Route 14 (Division Street/Downtown) exit.
Turn right at traffic light.
Go across bridge.
Turn right at second traffic light onto Avery Street; United Square is on the left.
From Airport:
Leaving airport, turn right onto Route 31.
Turn right onto Route 2 at junction of Route 31 and Route 2.
Follow Route 2 into Parkersburg (about three to four miles).
Stay on Route 2/Emerson Avenue.
At third traffic light, bear left onto Dudley Avenue.
Pass through four traffic lights; At next block, turn right onto 13th Street; go through two traffic lights on 13th Street and turn left onto Market Street.
Turn left at third traffic light on Market Street onto Seventh Street.
Turn right at first traffic light on Seventh Street onto Avery Street.
Pass over railroad tracks at Sixth and Avery streets; United Square is on the right.