Practice Areas
Education
J.D., West Virginia University College of Law (1995)
Lugar Moot Trial Association
National Trial Competition
West Virginia Invitational Trial Competition
B.A., Swarthmore College (1992)
Varsity Football (1988-1991)
Academic All-Conference Selection (1990, 1991)
Delta Upsilon Fraternity
Thomas B. McCabe National Scholarship for Leadership and Service (1988-1992)
Admissions
Supreme Court of Appeals of West Virginia
U.S. District Courts for the Northern and Southern Districts of West Virginia
U.S Court of Appeals for the Fourth Circuit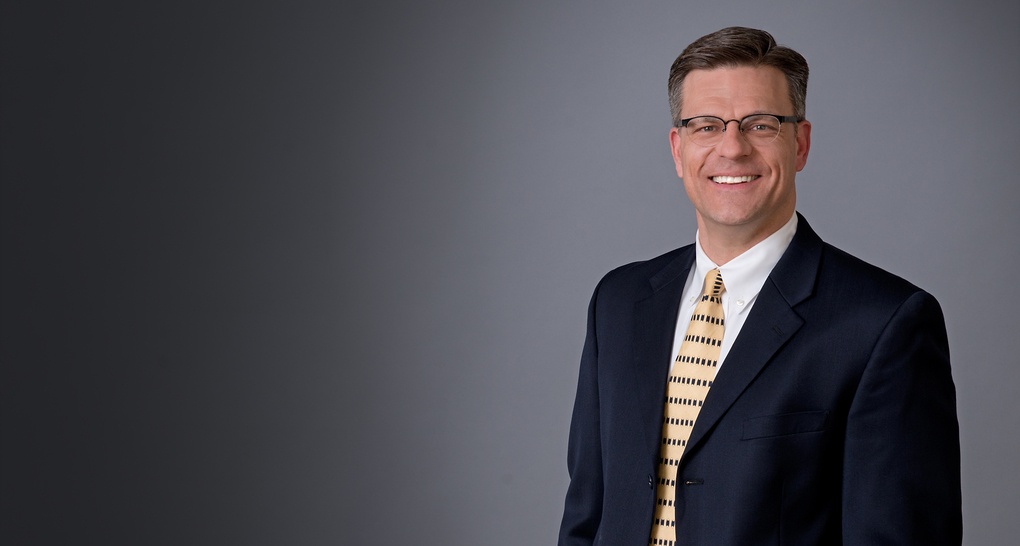 Joseph L.
Caltrider
Partner
Joseph Caltrider concentrates his litigation practice in the areas of motor vehicle liability, premises liability, product liability, employer workplace liability, police liability, insurance coverage, real estate, land use and development disputes, construction disputes, and will, trust, and estate disputes.
This includes the defense of various insurance coverage claims, insurance bad faith claims, truck and automobile liability claims, premises liability claims, product liability claims, wrongful death claims, workplace injury (deliberate intent) claims, professional negligence claims, and police misconduct claims.
Joe has also litigated business disputes and land use and restrictive covenant disputes, along with other property right disputes. His courtroom experience includes multiple jury trials in state and federal court and multiple appeals in the Supreme Court of Appeals of West Virginia and the Fourth Circuit Court of Appeals.
Professional Highlights
Leader, Bowles Rice Torts and Insurance Practice Group (2008-2013)
National Trial Advocacy Institute, University of Virginia School School of Law (2004)
West Virginia Supreme Court Cases
Home Inspections of VA and WV, LLC v. Hardin, 244 W.Va. 173, 852 S.E.2d 240 (W.Va. Nov. 19, 2020) (circuit court erred by denying home inspection company's motion to compel arbitration; arbitration provision was not ambiguous as to whether it required arbitration or another informal dispute resolution procedure; arbitration provision was not rendered invalid by failure to include certain terms)

Estate of Jones by Jones v. City of Martinsburg, 2020 WL 8991834 (W.Va. Oct. 30, 2020) (res judicata and collateral estoppel prevented second law suit against Martinsburg police officers for excessive force in shooting case; a private citizen does not have an absolute right to present a case to a grand jury after a first grand jury found no true bill)

Stiltner v. Wal-Mart Stores, Inc., 2020 WL 4355066 (W.Va. July 30, 2020) (store security policy does not constitute a "commonly accepted and well-known safety standard within the industry or business of the employer" to satisfy essential element of deliberate intent cause of action under W.Va. Code § 23-4-2(d)(2)(ii)(C))

Goldstein v. Peacemaker Properties, LLC, 241 W.Va. 720, 828 S.E.2d 276 (W.Va. Mar. 15, 2019) (retroactive statute prohibiting nuisance claims against shooting range if shooting range was in compliance with local noise ordinances barred plaintiffs' claim for injunctive relief, however, retroactive statute could not bar plaintiffs' claim for money damages as a vested property right; circuit court did not abuse its discretion in denying plaintiffs' motion for sanctions)

Mitchell v. Mitchell, 2018 WL 4909884 (W.Va. Oct. 10, 2018) (circuit court did not abuse its discretion by dismissing certain estate claims or by finding prior release executed by the parties in partition cases did not serve to prevent claims against decedent's estate or executor)

Stolipher v. Estate of Rocheleau, 2016 WL 4579068 (W.Va. Sept. 2, 2016) (purchaser could not succeed on cause of action for permissive waste and breach of deed covenant absent evidence at summary judgment of condition of farmhouse at time of purchase)

Midkiff v. Shepherd University, 2016 WL 3092807 (W.Va. May 25, 2016) (dismissal of prior action for failure to effect service was res judicata in current unlawful arrest action, thus dismissal was warranted)

Berry v. Mountain Air Prop. Owners Assn., Inc., No. 13-1324, 2014 WL 5312274 (W. Va. Oct. 17, 2014) (restrictive covenant prohibited landowners from building a storage building prior to the construction of a dwelling on their property)
Hersh v. E-T Enterprises, Ltd. P'ship, 232 W. Va. 305, 752 S.E.2d 336 (2013) (West Virginia abolishes "open and obvious" doctrine)
Diggins v. The River Ridge Prop. Owners Ass'n, Inc., No. 11-1098, 2012 WL 5232237 (W. Va. Oct. 19, 2012) (development's restrictive covenants prohibited tents, travel trailers, campers, and recreational vehicles from remaining on lots during January)
Foster v. Orchard Dev. Co., LLC, 227 W. Va. 119, 705 S.E.2d 816 (2010) (subdivision's design guidelines containing minimum size requirements were separate from subdivision's restrictive covenants)
State ex rel. City of Martinsburg v. Sanders, 219 W. Va. 228, 632 S.E.2d 914 (2006) (city was immune under workers' compensation statute from claim for medical monitoring damages in common law tort action)
Haines v. Hampshire Cnty. Comm'n, 216 W. Va. 499, 607 S.E.2d 828 (2004) (former dog owners failed to state claim against county animal control officer)
Harbaugh v. Coffinbarger, 209 W. Va. 57, 543 S.E.2d 338 (2000) (decedent's act, whether characterized as suicide or playing Russian Roulette, constituted intervening cause for purposes of negligence action brought against gun owner)
Potomac Edison Co. v. Jefferson Cnty. Planning & Zoning Comm'n, 204 W. Va. 319, 512 S.E.2d 576 (1998) (public utility that exercised statutory power to condemn land was subject to local use regulations)
State ex rel. United Asphalt Suppliers, Inc. v. Sanders, 204 W. Va. 23, 511 S.E.2d 134 (1998) (supplier that did not sign arbitration clause could not be directed to participate in arbitration)
Fourth Circuit Case
Bellotte v. Edwards, 388 F. App'x 334 (4th Cir. 2010) (store did not commit tort of intentional infliction of emotional distress by reporting customer to police)
Honors
West Virginia University College of Law Order of Barristers
Presentations & Events
Joe has spoken at the Shepherd College School-to-Career Academy, the Harpers Ferry Jr. High School Career Day program, and Jefferson County Chamber of Commerce New Teacher Banquet and High School Business Symposium
Articles & Alerts
Litigation Alert

,

June 5, 2014
Professional Affiliations
American Bar Association
West Virginia Bar Association
Eastern Panhandle Bar Association
Defense Trial Counsel of West Virginia (Insurance Law Committee)
Community/Civic Activities
Ohio-West Virginia Youth Leadership Association (YLA) Youth-in-Government (YG) Model Judiciary and Legislative Programs (Board of Directors)
Jefferson County Chamber of Commerce (Member)
2019 Leadership Jefferson graduate
2017 Leadership Berkeley graduate