Marc Monteleone Elected Managing Partner of Bowles Rice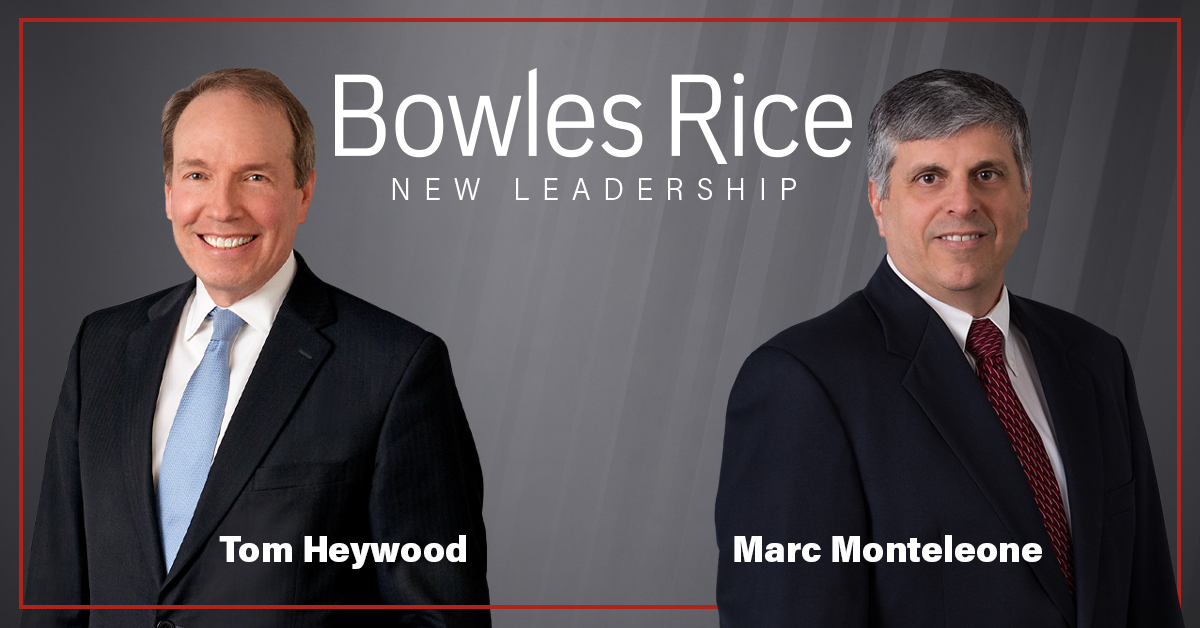 Charleston, West Virginia – On January 21, 2022, the partners of Bowles Rice LLP officially named Marc Monteleone the firm's new Managing Partner. Monteleone succeeds Tom Heywood, who has served in the Managing Partner role since 2008.
Originally from Clarksburg, West Virginia, Monteleone joined Bowes Rice in 1987 upon graduation from the West Virginia University College of Law. In 1989, he earned a Master of Laws degree in taxation from New York University. In addition to his diverse practice, which includes tax law, construction law, oil and gas law, and general business and corporate law, Monteleone has served as the firm's Chief Financial Officer for 27 years and as Assistant Managing Partner since 2020 – the firm's centennial.
In 1996, as a member of the firm's building committee, Monteleone supervised the design and construction of Bowles Rice's Charleston, West Virginia headquarters. The design-build project, located in the heart of the capital city's downtown, was completed in only four months. "It was one of the fastest buildings ever built in America at the time," said Monteleone. "Not only that, the project was completed under budget." Accordingly, it was Monteleone who authored West Virginia's design-build legislation. Former Governor Cecil Underwood appointed him chair of the West Virginia Design-Build Review Board, a position he held for nearly 20 years.
Monteleone has played a key role in the firm's strategic growth across the region, including the development and design of a new Morgantown, West Virginia office, which opened in 2018, as well as Bowles Rice's expansion into Western Pennsylvania in 2015. He plans to approach his new role with the same vision and industriousness.
"It is an honor to be elected Managing Partner of Bowles Rice by my colleagues and peers," said Monteleone. "Our firm's history is rich and well established, and our commitment to the communities where we live, work and raise our families is unwavering. My job is to preserve the traditions we have established over the course of 100 years, and to maintain our firm's vision of advocacy, counsel, leadership and service to the success of our clients and the vitality of our communities. I want to thank Tom Heywood for his 14 years of outstanding leadership as Managing Partner, and for giving me the opportunity to serve as Assistant Managing Partner for the last two years."
Though transitioning out of his executive appointment, Heywood will continue his work at Bowles Rice, both as a partner and practicing attorney as well as Chair of the firm's Marketing and Business Development team. "Serving as Managing Partner of Bowles Rice has been an honor and the highlight of my career," said Heywood. "I have reached the age where under our firm's policies I am to transition from this post, and I do so with deep appreciation for the support and encouragement my partners have given me over the years. I am very excited for Marc, and I am very excited for our firm. We could not be in better hands going forward."
In addition to the election of Monteleone as Managing Partner, the partners of Bowles Rice have named Breck Martin the firm's new Chief Financial Officer. Martin is a partner in the firm's Parkersburg, West Virginia office.
###
Bowles Rice is a full-service law firm with more than 110 attorneys serving clients from six offices located in Charleston, Martinsburg, Morgantown, and Parkersburg, West Virginia; Southpointe, Pennsylvania; and Winchester, Virginia.