Bowles Rice Welcomes New Associate, Announces Attorney Admissions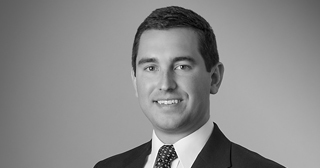 Attorney Ryan J. Kent has joined the Parkersburg, West Virginia office of regional law firm Bowles Rice LLP. He will serve as associate, practicing in the areas of energy, oil and natural gas, real estate, and tax.

Mr. Kent received his law degree from West Virginia University College of Law, where he was a member of Moot Court Board and recipient of the CALI Award for pre-trial litigation. He earned his undergraduate degree in business administration from The Ohio State University in 2008.

Prior to joining Bowles Rice, Mr. Kent served as a legal intern with Mountain State Blue Cross Blue Shield.

Mr. Kent is admitted to practice before the Supreme Court of Appeals of West Virginia and United States District Court for the Southern District of West Virginia.

In addition to welcoming Mr. Kent to the firm, Bowles Rice announced associates Cole M. Bozic and J. Breton McNab have been admitted to practice in West Virginia, while Roger G. Hanshaw and Jennifer B. Hagedorn were also admitted to practice in Pennsylvania.

Both Bozic, of Bowles Rice's Morgantown office, and McNab, of the Parkersburg office, practice with a focus in energy law and oil and gas law. Bozic had previously been admitted to practice in Pennsylvania, while McNab had previously been admitted in Ohio.

Hanshaw, an associate in the firm's Charleston office, focuses his practice in environmental and regulatory law, energy law and government relations. Hagedorn, who recently joined the firm's Southpointe, Pennsylvania office, practices in the areas of energy, health care, real estate, and labor and employment. Hanshaw and Hagedorn were both previously admitted to practice in West Virginia.

Bowles Rice is a full-service law firm with more than 135 attorneys and eight regional offices in Charleston, Martinsburg, Morgantown, Moundsville and Parkersburg, West Virginia; Southpointe, Pennsylvania; Lexington, Kentucky; and Winchester, Virginia.