Law firm buys Summers Square Building: Bowles Rice Plans Skyway to Connect to Headquarters
By: Charleston, WV
July 2, 2004

The law firm of Bowles Rice McDavid Graff & Love purchased the Summers Square building today from Summers Street Development Limited Partnership for $5,035,000, said Tom Graff Jr., the law firm's managing partner.
Graff said the law firm plans to connect its headquarters at 600 Quarrier St. to Summers Square with a second-story skywalk before the snow flies.
Bowles Rice is based in a building it constructed eight years ago. "We thought it would take care of our needs for five years and it certainly has done that, but we're about to outgrow it," Graff said. "This is the next step for the future for us."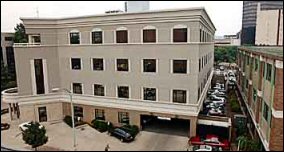 The law firm has about 60 lawyers in Charleston and a total of more than 100 employees at its Quarrier Street headquarters. The firm also has offices in Martinsburg, Morgantown and Parkersburg; Lexington, Ky.; and Winchester and Richmond, Va.
Graff said the law firm plans to eventually occupy all of Summers Square. "We'll start off using about half of the second floor, then, gradually over the years, we'll use a greater portion of the building as needed," he said.
"It (purchasing Summers Square) was the most economic thing we could do to satisfy our space needs," Graff said. "It allows us to just extend our technology and telephony systems into that building. It's not like having a building down the street it's like an extension onto our current office."
In addition to meeting the law firm's current and future space needs, the deal "allows us to do our business the way we're accustomed to doing it - that is, it allows our practice groups to be in the same locale and not have people spread all over the office.
"We thought about it a lot," Graff said. "It's a big step for us but I think the right step. It solidifies our commitment to the city of Charleston, too."
Summers Square contains 39,000 square feet of space on three aboveground floors. It includes a gated parking lot in the back. Graff said the building is more than 90 percent occupied. Verizon Yellow Pages and Morgan Stanley are on the first floor. IBM also is a tenant.
Rudy Henley, one of the partners in Summers Street Development Limited Partnership, said the construction of Summers Square in 1994 is widely attributed as key to turning that part of town around.
"Before it was developed that was considered to be a pretty rough area of town," he said. "Once that changed, with top-flight tenants, you had a whole series of developments around it a parking garage across the street, Summit Center, the Bowles Rice building."
"Now I think people consider it a pretty nice area," Henley said. "It's an example of how positive change has occurred over time in downtown."
Summers Square, at the northwest corner of Quarrier and Summers streets, is almost at the geographic center of the downtown's banking district, he said.
Henley said Summers Street Development Limited Partnership consists of the general partner, McCabe-Henley General Partner Inc., and some limited investors.
"In real estate you buy and sell over time," Henley said. "We determined it was a good time for everybody to sell and move on. It's been a good investment."
George Hohmann, Daily Mail business editor