Bowles Rice Recognized as Family-Friendly Workplace
By: Charleston, WV
January 10, 2012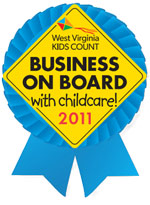 Bowles Rice has earned the 2011 Business on Board with Childcare! Achiever Award from the West Virginia KIDS COUNT Fund.

The award was announced by Margie Hale, Executive Director of West Virginia KIDS COUNT, who congratulated Bowles Rice for supporting its employees' childcare needs and its commitment to a family-friendly workplace.

Bowles Rice and other companies that have achieved an award for creating a childcare-friendly workplace will be recognized at a statewide KIDS COUNT event in early 2012.