Diversity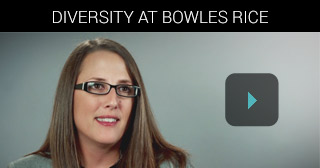 Jill E. Hall
Diversity Partner

"Diversity is central to the Bowles Rice culture. We understand that the future success of the firm depends in large part on a workforce that is as talented, creative and diverse as our clients."

Bowles Rice is committed to fostering diversity and inclusion among our attorneys, staff and vendors. We recognize the value – to our employees, our firm and our clients – of teams comprised of individuals with different life experiences, perspectives and ideas, in order to create exciting new efficiencies and solve complex problems.
Attorney Jill Hall serves as the firm's Diversity Partner, and works with the firm's Executive Committee and firm management to identify and address diversity-related challenges in our profession, our region and our firm. The Diversity Partner works to:
recruit, retain and promote women and minority lawyers;
foster an inclusive work environment that will benefit our staff, our lawyers and our clients;
ensure Bowles Rice becomes a true leader in diversity efforts among our peers in the legal profession, as well as in the communities in which we live and work.
We seek to have an inclusive, cohesive and collegial work environment in every office, which provides opportunities for each of our attorneys and staff to reach his or her full potential.
We continue to expand the number and geographic locations of law schools at which we recruit, seeking to increase diversity among the candidates we interview. Mentors, both formal and informal, help new attorneys and summer clerks assimilate into our firm and into the communities in which we live and work.
Consistent with our firm's mission to retain talented attorneys and staff, we are committed to providing women and minority attorneys and staff with opportunities to flourish and advance. We have proactively increased the number of women attorneys in leadership roles at the practice area, group and firm governance levels. Four of our five administrative directors are women, including our executive director.
Bowles Rice recognizes that circumstances sometimes arise that necessitate an alternative or flexible work schedule, and we respond to those requests. We also support members of the firm whose public service commitments include elected office or the military.
Finally, our Respect Credo has long expressed the firm's commitment to diversity and inclusion at every level, and in every office, every day:
The firm recognizes the value and contribution of every individual of the team and requires that every person treat all others with respect and consideration.