Education
LL.M. in Taxation, New York University (1989)
J.D., West Virginia University College of Law (1987)
B.S., summa cum laude, Accounting, West Virginia University (1984)
Admissions
Supreme Court of Appeals of West Virginia
U.S. District Court for the Southern District of West Virginia
U.S. Court of Appeals for the Fourth Circuit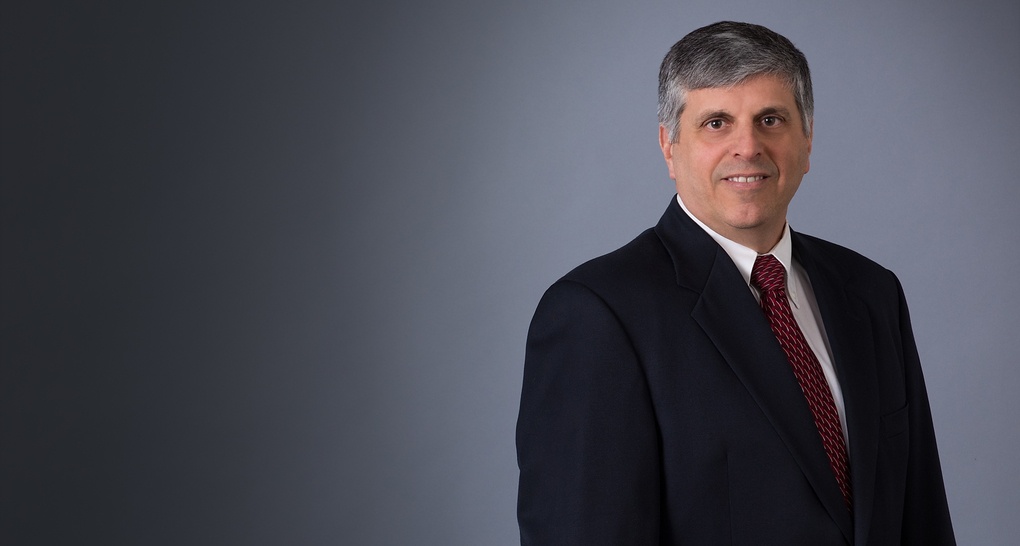 Marc A.
Monteleone
Partner
Marc Monteleone has practiced law for over 30 years and is well-positioned to assist clients in the broad scope of general business issues. His practice includes construction law, real estate development, commercial law, federal and state taxation, mergers and acquisitions, and oil and gas law. Marc serves as the firm's Chief Financial Officer and manages the firm's real estate needs, including the construction of new facilities/offices.
Marc authored West Virginia's design-build legislation, which authorizes the use of design-build services in the state. Because of his experience and knowledge in the design-build process, Marc was appointed chair of the West Virginia Design-Build Review Board by former West Virginia Governor Cecil Underwood and served in that capacity until 2018. Marc supervised the design and building of the firm's Charleston and Morgantown offices, as well as the renovation of all of the firm's other offices. He served as chairman of Charleston Parking Task Force and supervised the construction of two city parking garages using the design-build delivery method.
In 2018, Marc was named a Charter Fellow in the Construction Lawyers Society of America, an invitation-only international honorary association dedicated to promoting superior advocacy and ethical standards in construction law and fostering a scholarly and advanced exchange of ideas in all practices related to the specialty.
Marc has an extensive real estate practice in land use and development law, representing both large and small developers proposing commercial and residential projects.This representation has encompassed many aspects of development, including land use, financing, business structure and construction issues.
Additionally, Marc has extensive experience in managing oil and gas operations. He is the Immediate Past President of the Independent Oil & Gas Association of West Virginia (IOGAWV), 2017-2018, and currently serves as in-house counsel to a large independent oil and gas producer, where his duties include overseeing Marcellus Shale exploration, negotiation of gas sales contracts and supervising mineral acquisitions.
Professional Highlights
Chief Financial Officer, Bowles Rice
Chair, Bowles Rice Small Business Development Team
Former Member, Bowles Rice Executive Committee
Owner of several small businesses, including Mountain Lion Enterprises, Inc. and Tygart River Oil & Gas, LLC
Speaker, White House Conference on Small Business
Honors
Named

Best Lawyers'

Lawyer of the Year in the southern West Virginia region (Tax Law - 2021)

Received 2020 Gunslinger Award from Independent Oil and Gas Association of West Virginia
Named to The Best Lawyers in America ® (Construction Law; Corporate Law; Oil and Gas Law; Tax Law; and Trusts & Estates Law)

Named

Best Lawyers'

Lawyer of the Year in the southern West Virginia region (Oil and Gas Law - 2019)

Named

Best Lawyers'

Lawyer of the Year in the southern West Virginia region (Construction Law - 2013)

Named Charter Fellow of Construction Lawyers Society of America in 2018
Recognized by Chambers USA: America's Leading Business Lawyers for Corporate/Commercial Law - Tax
Listed among West Virginia Super Lawyers for Tax
Professional Affiliations
Independent Oil & Gas Association of West Virginia (IOGA-WV), Immediate Past President (2017-2018)
Construction Lawyers Society of America (Fellow)
Trial Law Institute (Member)
Diversity Law Institute (Member)
Community/Civic Activities
City of Charleston Architectural Review Committee
Vision Shared Seamless (Education Committee)