Tom Heywood Among Speakers at "Building a Resilient West Virginia" Conference in April 2016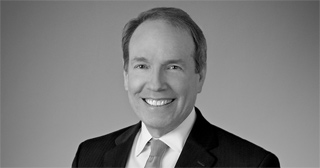 Tom Heywood Among Speakers at "Building a Resilient West Virginia" Conference in April 2016
Thomas A. Heywood, Managing Partner of Bowles Rice, will serve as a presenter at "Building a Resilient West Virginia: Taking Control of the Mountain State's Future," Friday, April 8, 2016, at the West Virginia University College of Law. The event is being co-sponsored by the West Virginia University John D. Rockefeller IV School of Policy and Politics and the College of Law's Center for Energy & Sustainable Development.
He is slated to speak during a session tentatively titled, "West Virginia's Transitioning Economy: Where Have We Been and Where Are We Headed?", during the all-day event featuring experts from the Brookings Institution, Appalachian Power, Columbia Law School, United Mine Workers of America and the West Virginia Department of Commerce, among others. Former U.S. Senator John D. Rockefeller IV will deliver the day's keynote address. Congressman Evan Jenkins is also scheduled to speak during the afternoon sessions.
Heywood has significant experience in health care, banking and corporate/commercial law, and is frequently called upon by clients and community leaders for advice on business matters related to acquisitions and other transactions. As a former Chief of Staff to the Honorable Gaston Caperton, one-time governor of West Virginia, Heywood is well-versed in dealing with government officials at the local, state and federal levels, and is the leader of the Bowles Rice Government Relations Team.
Heywood is active as a leader in many civic initiatives. He earned his bachelor's degree from Stanford University and a juris doctor from Harvard Law School.